Want to get a suit, but have no idea what to look out for? That was exactly my predicament when I set out to find my first tailor-made suit a year ago.
Surprisingly, there's a lack of information online regarding the tailoring industry, and what the consumer should look out for. Sure, there are some generic articles, but none really addresses the question: What am I paying for? In my (admittedly limited) experience, tailoring can sometimes be a rather opaque industry – tailors often pull the wool over eyes of customers, or simply seek to get people through the door with aggressive "$299 suit promotions" Facebook advertisements.
In this article, I seek to provide practical tips for my readers – basically, how to get a quality suit for your hard-earned money, and not be conned. Without further ado, let's get into the things you should look out for when getting a tailored suit!
1) Fabric
The fabric of your suit is arguably the most important component one should look out for, aside from the fit. Depending on the fabric, a tailored suit can cost either $300, or $3000! However, in my own experience, the fabric is the area where tailors most mislead their customers.
Here's a few things to look out for:
If a tailor advertises his fabric as a wool and cashmere/silk blend (especially under $500), don't believe him. Cashmere and silk are extremely expensive – you won't find it in 3 figure suits, period.
If a tailor advertises his sub-$100 shirt as "Egyptian Cotton", don't believe him. Genuine Egyptian cotton shirts cost at least $150, often $200+. I've seen numerous advertisements on Facebook, advertising free "Egyptian cotton shirt" with the purchase of a suit and the like. Don't trust these misleading ads.
If a tailor advertises his fabrics as Italian or English, don't believe him. I've seen tailors trying to upsell customers by claiming that their fabrics are made in Italy or England, and therefore cost more. Some even come in a blue Made-in-Italy book, or have Italian/English sounding names such as "Luciano" or "Ascott & Angland". I'm not saying that these fabrics are bad or inferior – just that they are definitely not Italian or English. Generally speaking, unless the fabrics are from established, renowned European brands such as VBC, Loro Piana, Drago, Holland & Sherry, Dormeuil, Zegna, Scabal, etc, treat tailors' claims of a fabric's country of origin with a grain of salt.
Don't believe the little printed strip you see on fabrics. Often, these strips state things like "Super fine merino wool, Super 180s" or the like. Most of the times, the fabrics that have these little strips pasted on them aren't even wool at all!
Don't always believe tailors' claims that their fabrics are mixed wool. This is an issue particularly prevalent amongst affordable tailors. Often, the mixed wool fabrics that these tailors try to sell you are 100% or at least overwhelmingly polyester. Here's a tip: if the fabric is shown to you double-layered, it is likely of inferior quality. Also, don't trust the little white stickers on the fabrics that states the fabric's composition (50% wool, 50% polyester, etc). Learn to discern quality fabrics. Firstly, real mixed wool fabrics shouldn't have a shiny sheen to them. (The sheen is created by the polyester in the fabric). Secondly, genuinely mixed wool fabrics should feel light on the skin, though this might be hard to tell without actually trying to jacket/pants on.
The only definitive way to determine whether a fabric has a high wool content is by burning it – genuine wool shouldn't burn – but as that is not exactly practical, hopefully the tips above will aid you in choosing a good quality fabric for your suit!
2) Construction
For suits, there are generally three grades of construction: fused, half-canvassed, and fully canvassed, in ascending order of quality. The construction of a suit is rather complicated, so I'll try to keep it simple here. For a suit to maintain its shape, an interlining is applied to the inner side of the suit. Traditionally, this lining is sewn on by hand. Such suits are termed as canvassed. A fused suit is when the lining is glued on, instead of being sewn. I would recommended avoiding fused suits, unless it's really for an one time event. If you're planning to wear the suit regularly, go for a canvassed suit! As compared to a fused suit, a canvassed suit last longer, is more breathable and drapes over your body more naturally.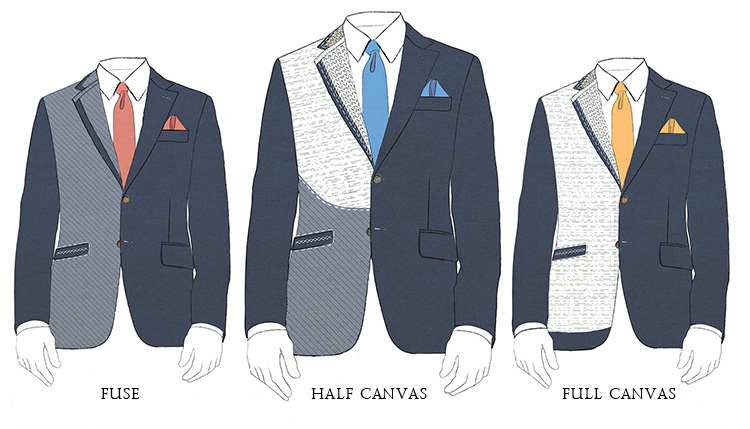 As such, always ask tailors about the construction used in their suits. Often, those affordable tailors who blast "$299 suit promotion" all over Facebook sell mainly fused suits. However, expensive suits can be fused too – off-the-rack Armani/Hugo Boss suits notwithstanding, even 4 figure suits from established custom tailors can sometimes be fused! Furthermore, some affordable tailors also try to pass off fused suits as half-canvassed. Whilst it's hard to tell whether a suit is truly canvassed without cutting it open, a telltale sign is the lapel roll.
On a truly canvassed suit, you should see that the lapel has a natural roll (see picture above). On fused suits, the lapels are flat, and looks like they have been ironed. As such, if an affordable tailor (especially <$400) states that their suits are half-canvassed, take a look at the lapel rolls of their sample suits before taking them their word for it!
3) Style
This may seem obvious, but you should take note of the style of the tailor you're visiting. Some tailors are more adept at making business suits, whilst some are more geared towards making more flashy suits. Often, the layout of tailors' showroom reflect their personality, and in turn, what they are best at doing.
Similar to barbering, it is important that you "vibe" with the tailor from which you are planning to commission your suit. For example, Closeknip's showroom has an intimate feel, and it feels like you're in someone's home whilst there.
In contrast, Sors Studio's showroom looks straight out of an interior design catalog! There's a good reason for that – Gary (founder of Sors Studio) describes himself as an Image Consultant, rather than a tailor. Their mannequins flaunt eye-catching flowery trims, and look straight off a magazine.
When you walk into a tailoring store, look at the tailor. Do you like what he is wearing? Do you like the fit of his clothes? Take a look at the mannequins displayed in the store. Do you like what you see – is it too flamboyant, or too conservative? If you like the style of the tailor you're visiting, that's already half the battle won.
4) Experience
Tailoring is not a craft that one masters in a week, a month, or even a year. There are many intricacies involved in tailoring – it is truly a craft. Take, for example, the fit. One needs years of experience to see and understand various body types, and in turn develop corrective measure to ensure a great fitting garment. There's a reason why Saville Row suits are so revered – their head cutters are renowned in the industry due to their expertise, their ability to judge and size up a person's body in an instance.
Personally, I prefer an experienced tailor over a newer one. When you visit a tailor with a storied history, there's a sense of security in knowing that they have been practising their craft longer than you have been alive. Take, for instance, Hwa Seng Tailors. Established in 1960, they have been in the industry for more than half a century, with the current owner Mr. Goh learning the ropes of the trade from his father since he was young. When a brand is able to survive (and thrive) for so long, they must be doing something right. In contrast, most of the tailors spamming social media with cheap suit promotions even may not be around 5 years from now – Marcella and K Tailors are examples of once-popular tailoring stores that no longer exist today. To use back the barbering analogy, going to an established tailor is like going to that old, Malay barber in your neighbourhood – you know you can't go wrong.
5) In-house Production
An aspect that customers rarely pay any heed too, tailors with in-house production generally have better reliability and quality control. Many of the affordable tailors one sees on social media outsource their production overseas (Indonesia, Thailand, and China are most common). This, of course, can lead to issues such as time lag, lack of quality consistency, and an unreliable back-end. When you outsource your core competency, you inevitably lose some control over the quality standard of your products. Ever heard of complaints against tailors for a lack of consistency, or delayed lead time? Chances are, these tailors aren't really tailors – they merely take basic measurements of you, snap a few photos, before outsourcing the production of your garments to an overseas factory for cheap.
As such, ask your tailors if their production is in-house, and where their production is held. The best-case scenario is if it's produced in-house, locally. For example, Meiko Tailor (as well as some other lao jiao tailors like Joe's Tailoring) has their production located in Marina Square, a stone throw away from their store at Pan Pacific. Due to the in-house local production, Uncle Chung (pictured above) is able to ensure that every piece of garment commissioned is up to his exacting standards. In addition, tailors with in-house productions are also better equipped to fulfil rush orders.
6) Basted Fitting
Not all custom tailors are the same. The better ones (in my opinion) always adopt basted fitting, in order to perfect the fit for their customers. For those uninitiated with tailoring, a basted fitting process is where the tailor will let you try on a skeleton jacket, held together by temporary white basting stitches. For more information on the basted fitting stage, do read this educational article here. To me, a basted fitting stage is essential to a true tailoring experience. To quote a line from the aforementioned article: "It's the difference between flying first class and flying on a private jet."
The basted fitting process allows tailors to fine-tune the fit of the suit, raising issues with fit that might otherwise have gone unnoticed. While I can't say that a basted fitting will always result in a good fit, in my personal experience the suits with a prior basted fitting all fit better than those without. I would say that if you have unusual body proportions (like me), the basted fitting stage is paramount in locking down a good fit.
More than fit, I believe that the basted fitting process adds to one's tailoring experience. Seeing Uncle Chung (pictured above) cutting through the baste stitches that undoubtedly took them tens of hours to sew, my appreciation of the tailoring craft grew exponentially. This is painstaking, labour-intensive artisan work. To me, it's not a true tailoring experience if there's no basted fitting process – there's a reason why most, if not all of Saville Row's hallowed establishments do basted fitting!
On the flip side, if you're pressed on time, you may be forced to search for a made-to-measure tailor without the basted fitting process. Bespoke tailors usually do 2 basted fitting sessions for their clients – these take time, and the usual lead time for such a suit is 1-2 months. If you need your suit in 1-2 weeks, the basted fitting process may be an area where you need to compromise in. Furthermore, the basted fitting process can also be said to be a tad inconvenient – you would have to drop by the tailor's 4-5 times. If you have a busy schedule, this will probably not be ideal.
7) Service
Ultimately, tailoring is a service. You have to like the service rendered by the tailor – there should be chemistry between the tailor and you. How does the tailor value-add in his service? Does he go out of the way to improve your experience? When you visit the showroom, does the tailor make you feel like home, or is he more concerned with upselling? My personal barometer is this: if you find yourself losing track of time when interacting with a tailor, that's when you know there's a relationship in there somewhere. (I guess this applies to most relationships, not just for tailors!)
I've seen customers leaving established tailors with great workmanship because they didn't like the service. In contrast, I've also seen tailors who perhaps may not boast the best quality suits or workmanship, but manage to still cultivate a loyal following due to their ability to go above and beyond for their customers.
When you visit a tailor, ask yourself: can I trust this guy? Don't be lured by low prices and attractive ads – tailors have literally ran away with their clients' money before. Find a tailor that is honest and open with you, and you likely have found your tailor for life.
Conclusion:
I hope these tips have helped you in your tailoring search! When I was searching for my first suit, I literally did not know what to get, what to look out for, which tailors to go to/avoid, etc. There was a lack of practical information online as well – most of what I could find were styling tips, or guides on fit. I have personally seen friends getting lured by attractive ads for low-priced suits, and ended up either getting a shoddily made suit or overpaid due to add-ons.
It has been a long learning journey for me personally (and I'm still constantly learning new things about this trade) – tailoring has turned out to be even more complicated than watches. After talking to almost 30 local tailors over the course of the past year, I've drawn on my personal experience to write the above tips for my readers. Hopefully, you guys have learnt something new about tailoring, and will be better equipped to discern which tailor you should go for!
I will be revamping my tailoring listicle for 2019 soon – stay tuned.
P.S Do check out the new "Discounts!" page for exclusive discounts for Wahsoshiok readers! More brands will be added very soon – stay tuned!
P.S.S If you haven't already, do follow my social media channels on Facebook here, and on Instagram here!