Hi guys, and welcome to another Singaporean watch review! This week, I'm looking at the Expedition (Mirror) from Straits Foundry – a homegrown microbrand.
The Expedition is Straits Foundry's contemporary take on the classic pilot watch. According to them, it's a "casual piece that's ready for adventure." Straits Foundry is a relatively young brand, with only two models (the other being the Maiden Voyage) to its name. Let's find out what the brand is all about!
Straits Foundry Expedition – the Brand
Straits Foundry is founded in 2016 by a guy named Mitch Krogman. Mitch hails from Michigan, USA, and studied Engineering out of Kettering University (which is situated in his hometown). Interestingly, Kettering University used to be called General Motors Institute of Technology, due to the university's close affiliation with General Motors and automotive/engineering related courses. In 2013, SUTD (Singapore University of Technology and Design) offered Mitch a chance to pursue a Masters in Engineering here on our sunny shores of Singapore. Mitch came over and liked Singapore so much that he's getting married to a local gal (congratulations!) He has stayed here ever since.
Similar to several other microbrand owners, this is his passion project. Back then, Mitch was a bit bored with his full-time job, and was craving for a new challenge. Coming from an engineering background, Mitch had already been tinkering with, modding, and building his own watches from scratch previously. With Straits Foundry, he wanted to challenge himself further by building a commercial brand around his designs. When asked about his interest in watches, he replied: "To me, watches are the most over-engineered pieces of equipment ever! The amount of components that goes into a watch, just for the simple task of telling the time – it's fascinating." I think its noteworthy that Mitch chose to bypass crowdfunding altogether, instead choosing to fulfill the initial MOQ (minimum order quantity) with his own savings. He said: "I don't want Straits Foundry to be seen as a project, which would go away into nothing if crowdfunding fails. I wanted us to be seen as a legit brand!" Respectable to say the least.
Straits Foundry states that they are "dedicated to building watches that you can rely on … … Products that will last." That's a bold statement – let's see if their confidence is warranted!
Straits Foundry – Build Quality
For a S$350 watch, I must say the build quality is really superb!
The Expedition uses sapphire crystal to protect not only the front dial, but also the exhibition caseback. As aforementioned in my previous reviews, sapphire crystal is much more scratch-resistant than mineral glass. At the ~S$300 price point, the usage of sapphire crystal both front and back is definitely not common. In addition, we get a screw-down crown on the Expedition, contributing to the 100M WR rating on the watch. This means that you can bring the Expedition out to the pool for a swim if you wanted to. In fact, an additional zulu strap is included for that express purpose!
The Expedition utilizes the Miyota 82S0 movement, which provides 40+ hours of power reserve and beats at 21,600 Hz. There's some basic decoration to the movement (as seen from the photo above), but it still lacks a signed rotor. Unfortunately, the movement doesn't hack. However, in my experience with the watch, the second hand doesn't suffer from the infamous stutter that afflicts other Miyota 8 series movements. In addition, Straits Foundry has also chosen to stamp their logo on the caseback, something that I'm ambivalent towards – I'm not fond of things that blocks my view of the mechanical marvel inside. As aforementioned, I would very much have preferred it if they had stamped their rotor, instead of the caseback. Speaking about the caseback, it is a screw-down one – a prerequisite to achieving the 100M WR rating. Several relevant nuggets of information are also engraved on the caseback, including the limited edition number of the watch. (Limited to 500 pieces per variant)
I put the Straits Foundry Expedition on a timegrapher (the timegrapher belong to Watch Wonderland), and the results are actually pretty spectacular! As can be seen from the photo above, the watch runs an average of 6 seconds faster per day. That's amazing for a Miyota 8 series movement – in fact, that's within COSC standards (-4/+6)! That's really impressive – I suspect internal regulation has been done on the movements prior to shipment.
I adore this strap. The strap is quite possibly the best strap out of all my review pieces thus far, which came as a surprise considering that this is a S$350 watch! The strap made of top-grain Italian calf leather, which is HAND-STITCHED and HAND-FINISHED. The quality of the strap is simply amazing – the strap alone has to be worth at least S$100! I had the watch for about a month, and it is already developing a nice patina. On the inside, the Straits Foundry logo is HAND-STAMPED too. The strap also comes with a butterfly clasp (another aspect uncommon at this price point) that's polished to match the polished finishing of the case. This definitely doesn't feel like a S$350 watch strap! In addition, Straits Foundry also includes an extra black Zulu strap with the Expedition, which you can put on if you're embarking on any aqua-related adventures with the watch on.
Being a watch geared toward adventure, the Expedition fittingly comes with Superluminova C1 lume. The lume is decently bright, but nowhere near the brightness that you would see on conventional flieger watches. It's something that Mitch is cognizant about, and he's working on changing the lume to a stronger varient (I'm assuming C3) in future production models.
Overall, I'm really impressed by the build quality of the Expedition. Sapphire front and back, 100M WR resistance, a fantastic hand-made strap (and an additional zulu one to boot) – Straits Foundry wasn't boasting when they said that these watches are built to last. Even the Miyota movement is surprisingly accurate!
Straits Foundry Expedition – The Design
Straits Foundry bills the Expedition as a modern take on the iconic pilot watch. I like the design – it's clean like a flieger should be, but with subtle differences to differentiate it from the crowd.
In keeping with the design ethos of conventional pilot watches, the dial is clean and legible – no fancy things here, not even an applied logo. Usually, I'll like the dial of my watches to have depth and contrast, but as aforementioned this is supposed to be a pilot watch, with a focus on sharp, crisp aesthetics and instant legibility. The interesting thing here is that the dial is actually not your usual matte black. Straits Foundry actually coated the dial with black ceramic, giving the usually generic black dials of fliegers an interesting sheen. Maybe it's my imagination, but the black dial here seems to have a deeper depth as a result, in the same vein as black enamel or urushi dials do (albeit to a lesser extent). Again, considering that this is a S$350 watch, the ceramic coated dial is a pleasant surprise.
Examine the dial further, and you will find several contemporary touches that Straits Foundry has given to the Expedition. Firstly, the iconic flieger triangle at 12 o'clock is hollowed out, giving the dial a more modern look. Secondly, the primary hands are made of polished stainless steel (to match the polished case), in contrast to the large lumed alpha hands of conventional pilot watches. I find the choice of the ball-end second hand interesting, as it gives the modern looking watch a bit of vintage vibe – perhaps paying homage to the historical importance of pilot watches? Overall, I think the dial of the Expedition is smartly executed. Straits Foundry retained enough features for the Expedition to be immediately recognizable as a pilot watch, but changed enough to make it their own.
This is the Mirror variant of the Expedition, so the case and lugs of this watch are correspondingly polished to a sheen. I have to say, this watch is aptly named – you really could use the high-polished case of the watch as a mirror! Personally, this is my favorite version of the Expedition. The polished finishing gives the Expedition a dressier look/feel, which I prefer as I'm a fan of dress watches. Nevertheless, if gloss isn't to your liking, there is also a sandblasted version, as well as a black PVD one. The crown here is signed as well, which is a nice touch to see at this price point.
As mentioned earlier, the Expedition comes with an alternative black Zulu strap which you can put on if you're planning to bring the watch for any aqua-related adventures. I think that the Expedition looks rather good on the black Zulu actually! The black Zulu strap complements the black ceramic coated dial nicely, giving the watch a stealthy, military/tactical look. The buckle is signed with the Straits Foundry font as well. However, I feel that they could have signed the strap loops too. Maybe they felt that that would be too much, but I've seen other microbrands do it on their Zulu straps (For example, the Boldr Voyager) and it's something that I personally like. Nevertheless, I'm nit-picking – the fact that you actually get an extra strap, in addition to the superb hand-crafted leather strap, on a S$350 watch is already phenomenal.
All in all, I like the looks of the Straits Foundry Expedition. Yes, the dial doesn't blow my mind in the same vein that the Arcturus LC-1 or the Reverie GT did – but this is supposed to be a modern spin on the classic pilot watch, and not meant to be some groundbreaking design. If you're looking for a different interpretation of the classic flieger dial, the Expedition may just do the trick for you.
Shootout: Straits Foundry Expedition vs Laco Augsberg (Miyota)
If you're looking for an affordable (sub-S$500) pilot watch, the best alternative would probably be the Laco Augsberg (Miyota).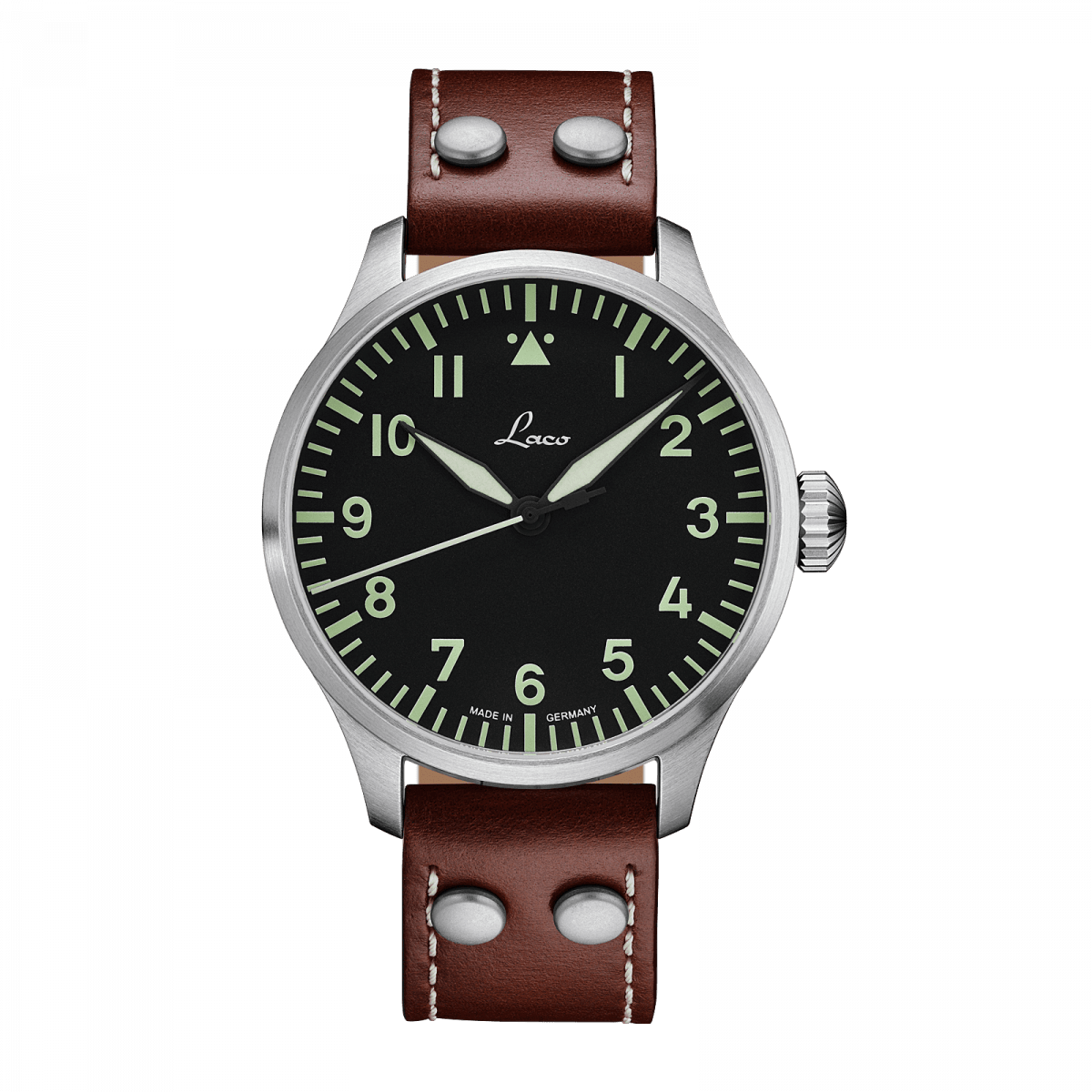 Spec-wise, they are pretty similar. The Laco Augsburg also utilizes a Miyota 8 series movement (821A) in the watch, with the dial protected by sapphire crystal. The lume should be stronger on the Laco watch though, with lume being visibly more generously applied to the dial of the Augsburg as compared to the Expedition. In its defense, the leather strap on the Expedition is better than that on the Laco, not to mention the additional Zulu strap that is thrown in!
If you're a fan of the more conventional flieger looks, the Laco would probably suit your taste better. Afterall, Laco is a household name in the world of pilot watches – along with Stowa, IWC, Wempe and A Lange & Sohne (before the late century reboot), Laco was one of the original producers of flieger watches back in WW2. Since the 1940s, the design of a Laco flieger (actually, fliegers in general) has remained relatively unchanged, a testament to the endurance of its design. If history and design heritage are key to your purchase of a pilot watch, the Laco fits the bill to a tee and will not burn a hole in your pocket in the process.
However, if you're looking for a different interpretation of a flieger, the Straits Foundry Expedition is for you. I personally prefer the looks of the Expedition better. I'm not a fan of the looks of a "traditional" flieger dial, because they all look the same. A Laco pilot watch looks nearly identical to a Stowa one, which in turns is highly similar in design to an Archimedes flieger – the only difference is the name on the dial! In contrast, Straits Foundry has designed a thoughtful compromise. The Expedition looks different enough from the conventional flieger design, but yet retains similar key aspects for it to be instantly recognizable as a pilot watch. It's a delicate balancing act, one that many brands has tried (not just for fliegers, divers too) and failed in the process. I have to give Straits Foundry credit for firstly trying, and secondly largely succeeding!
In addition, the Expedition at S$350 (after using the promo code below) is also significantly cheaper than the Augsburg (S$494). If price is a factor, it may wiser to opt for the Straits Foundry watch, which I genuinely believe to have unbeatable value for money (even the packaging is superb!). Therefore, I'll say this – unless you're a fan of the traditional flieger design, I believe that the Straits Foundry Expedition presents a better value for money overall.
Conclusion – so the Straits Foundry Expedition "shiok" or not?
Without a shadow of a doubt, yes. In every aspect, the Expedition shines. For starters, the grand packaging box already presents a positive first impression. Open it up, and you will find a quality watch that's built to last. Sapphire crystal all-around, 100M WR, and an excellent hand-made leather strap (with an additional zulu one) – hallmarks of quality all found on the Expedition. Even the Miyota 8 series movement runs surprisingly accurate, without the presence of any stutter on the second hand. The dial design remain true to the roots of the flieger, yet it is updated with several smart touches such as a hollowed out triangle at 12 o'clock, polished stainless steel hands, a ball-end second hand, and a ceramic-coated dial. If I have any critique, it would be that I wished Straits Foundry offered the Expedition in a larger variant as well, preferably in 42mm or 44mm. Pilot watches tend to be big – 40mm (the size of the Expedition) seems a bit too small to me.
If you're interested in getting a Straits Foundry watch after reading this article, you can get one here from their web-store. Straits Foundry has kindly offered my readers 10% off storewide – just use the code "WAHSOSHIOK" when you checkout the watch! If you're looking for a watch that has classic and contemporary styling in equal measures, the Expedition presents an irresistible proposition at S$350. Straits Foundry is just beginning its own expedition as a watch brand – if they continue to provide such quality in both components and design at an affordable pricing, I'm sure their future models will be a hit as well!
View Straits Foundry's full range of watches here.
Specifications:
Case diameter: 40mm
Case thickness: 12.5mm
Lug width: 20mm
Case material: Stainless
Case finish: Mirror, sandblasted, and black (limited)
Movement: Miyota 82S0
Dial: Black ceramic-coated
Hands: Metallic, lume
Crown: Screw type
Front crystal: Double-domed sapphire
Back crystal: Sapphire
Water resistance: 10ATM (100m)
Strap: Hand-made Itallian calf leather + Zulu strap
Clasp: Deployant style
Warranty: 2 years
P.S If you haven't already, do follow my social media channels on Facebook here, and on Instagram here! Also, we'll now be doing monthly strap giveaways – all you have to do is enter your email to be eligible! No spam, I promise. Winners will be announced at the end of every month on my social media channels.
P.S.S If you like my content, do consider donating a small sum! After much consternation I've decided to remove Google ads from the website so as to give viewers the best reading experience possible. An average review here garners about 1000 views – if everyone just donates a dollar, it would go a long way to maintaining this website! The donation link can be found here.
Photo Credits:
Nigel Gomes, @the_lone_cadre
Straits Foundry
Laco