Hello everyone, and welcome to another Singaporean review! This Sunday, I'll be reviewing a backpack from Gnome & Bow, a local effort focusing on "storytelling bags and wallets".
While there are numerous Singaporean watch/tailoring/shoe efforts, for some reason those doing bags are few and far between. Gnome & Bow is one of the rare Singaporean efforts to focus on bags and wallets – when the opportunity to review their products popped up, I was stoked to experience their products in person. I'll be reviewing two products of theirs: the Kale backpack in this article, and their mind-boggling Strand reversible briefcase which I'll discuss in a separate article next month.
Out of all the brands I've worked with till date, I found Gnome & Bow to possess one of the strongest brand identities that I've come across. Let's find out how they got started, and what Gnome & Bow is all about!
Gnome & Bow – the Brand
Gnome & Bow was founded in 2013 by Ong Quanda. A SMU Economics alumnus, he left his high paying marketing role in the banking sector to pursue his passion in fashion. In an interview to his alma mater, he stated: "I realised that my marketing role at a private bank didn't provide me sufficient freedom and opportunities to exercise my creativity, something that I live and breathe daily," Being a fashion-lover from the start (he even interned at local fashion giant Charles & Keith for a period of time), he decided to turn to bags as his creative canvas. He used up his existing savings to found Gnome & Bow in 2013, and in March 2014 launched his debut collection (the Hare and the Tortoise) on Pozible. They exceeded the target of $30,000 in 3 weeks and eventually raised $37,561 to become the largest fashion campaign on Pozible and the largest one in Asia. From then on, the rest is history. Today, Gnome & Bow is stocked in various retail outlets in Singapore (Tangs, Benjamin Barker, and more), Asia, Europe, and recently Canada! Kudos to Quanda for putting Singapore bag design on the world map. To read more about his story, you can read SMU's coverage of him here, and here.
So what is Gnome & Bow's unique selling point? According to their website (which looks fabulous, by the way), "Gnome & Bow was founded on that very notion that bags can go beyond functionality to become a new medium for storytelling, evoking the same emotions as our favorite stories. The Gnome represents that element of fantasy while the Bow symbolises the mark of class. Together, the harmony of these elements guides us in our design philosophy. Drawing inspiration from the classics to tales of fancy, we develop story elements that are imbued seamlessly into our goods…Timeless as the stories that inspire us, we believe that our bags should be too." Being a keen reader myself (I took Literature throughout my schooling life, which I guess is partly why I write now), this was an extremely interesting concept that honestly excited me. I've seen literature imbued in food (check out Hatter Street cafe!), games, movies, TV, etc, but this is the first time I see it woven into bags and wallets. It's not just a marketing gimmick too – literacy is something deeply personal to Quanda. He shared, "I'd like Gnome & Bow to become a world advocate in literacy. We want to give back to society through the love of reading, learning and storytelling [with] book donation drives and mission trips to build libraries in parts of the world where the literacy rate is low." While I think they are still a long way off being "a world advocate in literacy", it's nice to see that their USP not only makes for a great marketing story, but is also woven into their company CSR (corporate social responsibility) as well.
Alright, I've extolled about the brand long enough. Let's check out how the build quality of the bag fares!
Gnome & Bow Kale Backpack – Build Quality
The Kale backpack is currently available for S$346.50 (after promo code below). That's quite a pretty penny for a backpack! Let's see if the build quality merits the price tag.
Let's start with the exteriors. Unlike cheaper bags which use polyester or nylon exteriors, the Kale backpack utilizes 16oz waxed cotton canvas. This is considered heavy-duty cotton canvas, and it is also water- and rot-resistant. In essence, the exterior material of the Kale backpack is highly durable, and should retain its physical appearance for a long, long time. Furthermore, the leather accents are made of full-grain US cow leather. As I've covered in my previous articles, full-grain leather is considered the highest quality tier of leather, and will acquire a nice patina over time. Lower-quality (and therefore lower-priced) backpacks often use faux leather in their leather accents, which will peel off and degrade over time.
For the zippers, Gnome & Bow used YKK Japan Excella Matt Silver Zippers for the Kale backpack. That's a long name, but the end result is that the zipping action is buttery smooth. Unlike the previous bag that I reviewed here, I never ran into any issues of the zippers being stuck. The densely packed teeth are also polished to ensure that they are nice to the touch. Quite frankly, these zippers look and feel solid and robust – I'll be very surprised if they jam on me anytime soon. There's also a one-year warranty on all hardware in case you run into any issues, but I honestly don't foresee that happening here!
I was really impressed by the use of houndstooth cotton lining inside the Kale backpack. This is a stark departure from cheaper backpacks (for example, Herschel) which mostly uses polyester lining. Being a fan of tailoring himself, Quanda explained to me that he wanted the inner portion of the bag to exude gentlemanly elegance. As such, he chose to incorporate houndstooth cotton lining (with houndstooth being a pattern more commonly seen in tailoring) into his bags. I think that this is a masterstroke. Not only does it make the inner portion of the backpack feel premium, it looks great and complements the blue exterior aesthetics of the backpack as well.
Most of Gnome & Bow's offerings are double-zipped. According to Quanda, this is simply due to practicality. After wearing the Kale backpack for about a month now, I agree with him. Once you go double-zipped, you can't go back. I greatly appreciated the convenience of having a separate laptop compartment, instead of stuffing my laptop in with the rest of my barang barang. Oh, I forgot to mention – the laptop compartment is also neoprene-padded to provide maximum protection for your laptop! The laptop compartment is meant to fit 13″/14″ laptops, and as pictured above my 14 inch laptop fits in the compartment with substantial space to spare.
There's also a tech-friendly slot in the front, which I found handy for storing my accessories such as my mouse/mousepad/earphones/portable charger/various cables/etc.
The stitching on the various compartments is nicely done as well, without any fraying or loose ends. As aforementioned, I've been using the backpack for about a month now, and I still have not seen any threads coming loose or fraying.
If there is an area for improvement, it would be the straps. I don't know if it's evident from the photo above, but the main straps are actually rather thin, and lack cushioning in general. I'm a heavy duty user, in the sense that I often fill the backpack up to the brim when I head out – laptop, tech accessories, clothes, books, water bottle, etc. When carrying a heavy load in the Kale backpack, there were often times in which I wished that the straps were more generously padded to offer more cushioning.
Overall though, the Kale backpack is chock-full of premium features and materials – it's clear from the onset that the Gnome & Bow team built the Kale backpack to last through the trials and tribulations of the times.
Gnome & Bow Kale Backpack – the Design
As aforementioned, Gnome & Bow attempted to incorporate elements of the iconic fable, the Hare and the Tortoise, into the design of their backpack in a bid to create "the world's first storytelling bags".
As you guys know from my other reviews, I get turned on by subtle detailing that brands pay attention to. In Gnome & Bow's case, Quanda attempted to illustrate the racing element of the literary classic in the zippers of the Kale backpack. The leather accent on the side of the backpack is woven to resemble the checker flag at the start line of a race. The story is imbued in the zippers too – the front zippers (those on the left side of the photo) features art detailing of the hare, while the back zippers (those on the right) features art detailing of the tortoise.
On the opposite end of the Kale backpack, there is a similar leather accent with the woven checkered flag detailing, representing the finish line of the fabled race. As we all know, the tortoise won the race – Gnome & Bow illustrated this by designing the back zippers (now on the left of the photo) lengthier than the front, conjuring up the iconic moment in the story where the tortoise reaches the finish line first over the hare. My opinion on this? While it isn't exactly a revolutionary design (I reserve that judgement for their Strand briefcase – that was really mind-blowing), I do think that, for the lack of a better word, it's a cute idea. Certainly, the way they tried to incorporate the racing element of the story into the design of the Kale backpack is smart, and makes the Kale backpack more intriguing than other backpacks in its price range.
In addition, I find the logo is really nicely designed as well. Apart from the fact that it's constructed out of full grain leather, the leather piece is hand-stitched onto the backpack with Oxblood threading. According to Quanda, this is one of their design trademarks – you will find hand-stitched Oxblood threading in all of Gnome & Bow's bags and wallets. To him, Oxblood is a very "royal" colour, and conveys elegance and class. Most brands just emboss their logo or print their logo on fabric swatches and stitch it to the backpack, so I like that Gnome & Bow upped the ante in this aspect!
On the inside, there's also a nice little leather tab indicating the collection that the Kale backpack is from. Again, I think that this leather piece is tastefully designed, well sewn, and I like the artistic detail of the tortoise being presented in front of the hare. A nice touch. In addition, there is also a choice to personalise your own monogrammed bag tag (in either classic serif or old English), although that comes at an additional premium.
I have to admit, when Gnome & Bow first brought up the idea of me reviewing the Kale backpack, I was less than keen because Wahsoshiok focuses on just two things – watches and formalwear. I don't want this website to lose focus and start covering everything under the sun. Yet, Quanda insisted to me that the Kale backpack pairs well with formal attire, and that backpacks with suits are actually coming into trend. I visited the product page, and realised that in the product shots of the Kale backpack, it was actually paired with formalwear (the model was an ang moh wearing a blazer) as well! As such, I decided to give reviewing the Kale backpack a shot, and I'm glad I did. While the Kale backpack looks great in a casual setting (say, as a schooling backpack), it's perfectly at home when paired with a suit (as pictured above) as well. I do think that that's a testament to the design language of Gnome & Bow, where they sought to create classically designed bags that embodies the timeless nature of the iconic fables that they are based on.
All in all, I think that the Kale backpack possesses timeless aesthetics, with the storytelling detailing separating the Kale backpack from the rest of the pack. It's certainly a unique take on bag design – something that to date I've not seen other brands adopt.
Shootout: Gnome & Bow Kale Backpack vs Porter Mori Backpack
Not only does the Porter Mori backpack lie right beside Gnome & Bow's Kale backpack in terms of price, it is also literally placed beside the Kale backpack in retail outlets (Porter is also stocked at Tangs), making them the natural competition in today's shoot-out.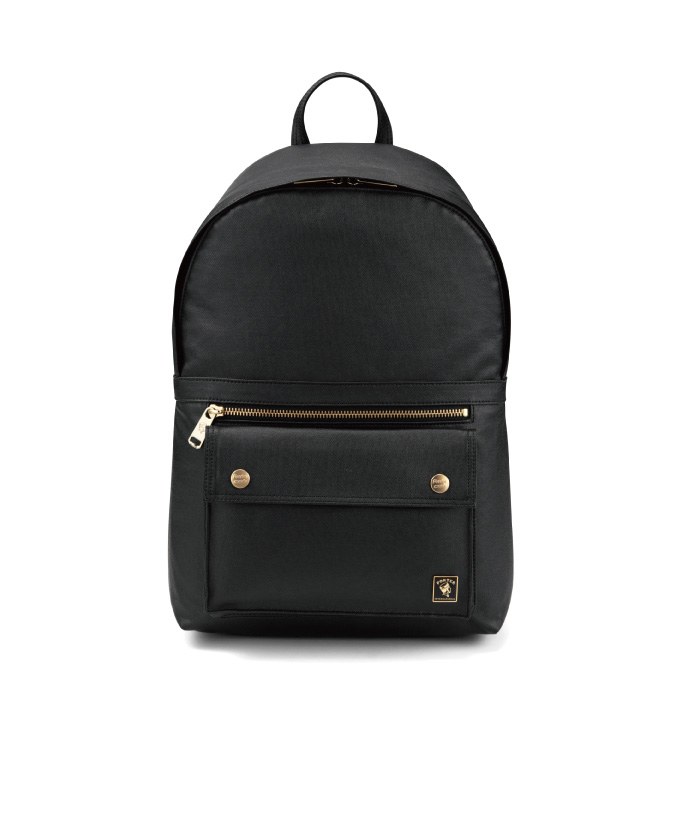 In terms of build quality, I would say that the Kale backpack is miles better. Firstly, the cotton canvas on the Kale backpack is thicker (16oz to Porter's 10oz), making it more durable. In addition, the cotton canvas on the Kale backpack is waxed as well, making it water-resistant unlike the Porter Mori backpack. Secondly, the Kale backpack uses full-grain leather accents – the Mori backpack lacks any use of leather at all. Thirdly, the interior of the Kale backpack utilizes houndstooth cotton, which adds a premium look and feel to the backpack. In contrast, I actually cannot find any mention on the material of the interior lining used for the Porter Mori, and there doesn't seem to be any photos on their website depicting how the backpack looks like inside. As such, I'm wagering that the Porter Mori backpack probably uses some sort of cotton/polyester blended lining, which would of course be inferior in quality as compared to the Kale backpack.
In terms of the design, I feel that both the Kale backpack and the Porter Mori backpack have similar clean and classic looks. However, I would say that due to its storytelling design features, I find the design of the Kale backpack more intriguing than that of the Porter Mori. In addition, the full-grain leather accents elevates the looks of the Kale backpack, making it look and feel more premium than the Porter Mori. Furthermore, in terms of practicality I believe the Kale backpack trumps the Porter Mori too – I'm really a fan of the separate neoprene laptop compartment.
At S$346.50 (after promo code below), the Kale backpack is slightly more pricey (~S$70) more than the Porter Mori. However, due to the reasons that I've mentioned above I believe that the the higher price tag is warranted due to its use of better materials, interesting design, and increased practicality. As such, the Gnome & Bow Kale backpack is the winner of this shootout for me.
Conclusion: so the Gnome & Bow Kale Backpack "shiok" or not?
Definitely. I'm very impressed by the premium look and feel of the Kale backpack. Yet, it is not all style and no substance. Behind the storytelling design lies practicality and durability in spades. As I wore the Kale backpack in various settings, I really appreciated the versatility of the backpack, both in terms of its looks as well as its functionality. If I have a knock on the Kale backpack however, it would be the price – at S$346.50 (after promo code below), I feel that the pricing is fair, but I definitely won't be classifying it as a steal. If Gnome & Bow can lower the price to below S$300 (they do have sales from time to time), I believe the Kale backpack would present an irresistible value proposition. That being said, the Kale backpack is limited to a mere 50 pieces worldwide (in each colour variant), so in addition to the build quality and design, you're also paying for exclusivity as well. Unlike Herschel, this definitely won't be a bag you see on the shoulders of many!
As aforementioned, I'm happy to announce that I've partnered up with Gnome & Bow to offer exclusive discounts for Wahsoshiok readers! Simply enter the promo code "WAHSOSHIOK" upon checkout on their web-store to receive 10% off store-wide! I'm really proud of this Singaporean effort, and love the way they continually innovate designs to incorporate storytelling elements. My next Gnome & Bow review is on the reversible Strand backpack (out end of May) – stay tuned, as that product really blew my mind away.
View Gnome & Bow's entire range of offerings here.
Update: Gnome & Bow just opened their flagship outlet at Millennia Walk! Their store can be found at Millenia Walk, #01-78, Singapore 039596. And yes – you can still quote "WAHSOSHIOK" whilst there to enjoy 10% off store-wide!
Specifications:
Material
– Full grain U.S. Cow Leather Accents
– 16oz Waxed Cotton Canvas
– YKK Japan Excella Matt Silver Zippers
– Houndstooth Cotton Lining / Nylon Webbing
Features
– 1 exterior pocket with tech-friendly slots, 1 interior pocket
– Neoprene-padded laptop compartment (Fits 13″/14″ Laptop)
– Signature Hare & Flying Tortoise detailing
Dimension
– 41cm x 31cm x 12cm
P.S Do check out the new "Discounts!" page for exclusive discounts for Wahsoshiok readers! More brands will be added very soon – stay tuned!
P.S.S If you haven't already, do follow my social media channels on Facebook here, and on Instagram here!
P.S.S If you like my content, do consider donating a small sum! After much consternation I've decided to remove Google ads from the website so as to give viewers the best reading experience possible. An average review here garners about 1000 views – if everyone just donates a dollar, it would go a long way to maintaining this website! The donation link can be found here.
Photo credits:
Nigel Gomes, @the_lone_cadre
Porter